Summer 2012 Travel Log from Cetacean Research Lab — Part Two
*Note: this summer, we are fortunate to share live updates on research being conducted by Vancouver Aquarium's Cetacean Research Lab, whose team is traveling along the coast of British Columbia to gain additional insights that will support its groundbreaking cetacean research. This second update from this past weekend was written by Meghan McKillop, research assistant for the Cetacean Research Lab.
Friday June 22 – We woke up this morning to grey, drizzly weather but light winds. A morning routine is to use the rain or dew from the night before to wipe the salt spray off the windows. While doing this, a windshield wiper popped off and needed to be replaced. Luckily we had an extra on board, but it was not a perfect fit and required about a half hour of modifications to make it fit.
Once we were underway, we moved out into Smith Sound to drop a hydrophone (an underwater device to track sound) in the water and listen for whales while we sat and had breakfast. After breakfast, we headed through Irving Pass where we saw our first minke whale. There must have been some feed in the area because we also saw two humpback whales and lots of sea birds. We carried on to the south end of Calvert Island and into Hecate Strait.
In Hecate Strait, I saw some distant blows and splashes over the horizon. Despite great visibility on the water, we weren't able to find the whales again, but during our search we came across a group of about 500 Pacific white-sided dolphins. There were many young animals in the group and many were yellowish in colour from diatoms on their skin. We took some photo IDs and made a sound recording – they were very vocal. After leaving the dolphins we anchored up in Adams Harbour off Hakai Pass for the night.
Saturday June 23 – We unfortunately had a slow start this morning, spending three hours fixing our anchor winch, which stopped working halfway through pulling up the anchor. We were worried that it was the motor and we would be without the anchor winch for the rest of the summer (which means pulling the anchor up by hand every day) but luckily it was just some wiring. Everything on a boat is in a tight, awkward spot but Lance (the Aquarium's senior marine mammal scientist) was able to fix the wiring so we had it working again. We also decided to re-splice the point where the anchor chain attaches to the rope line to prevent any extra stress on the anchor winch. Once that was fixed, we ran from Hakai Pass into Fitzhugh Sound.
We saw two breaching humpback whales but didn't get close to obtain any photo IDs. We then ran through Nalau Pass and into Kildidt Sound looking for transient killer whales. We didn't find any killer whales but we did see our first sea otter. We anchored for the night in an unnamed bay at the north end of Hurricane Island.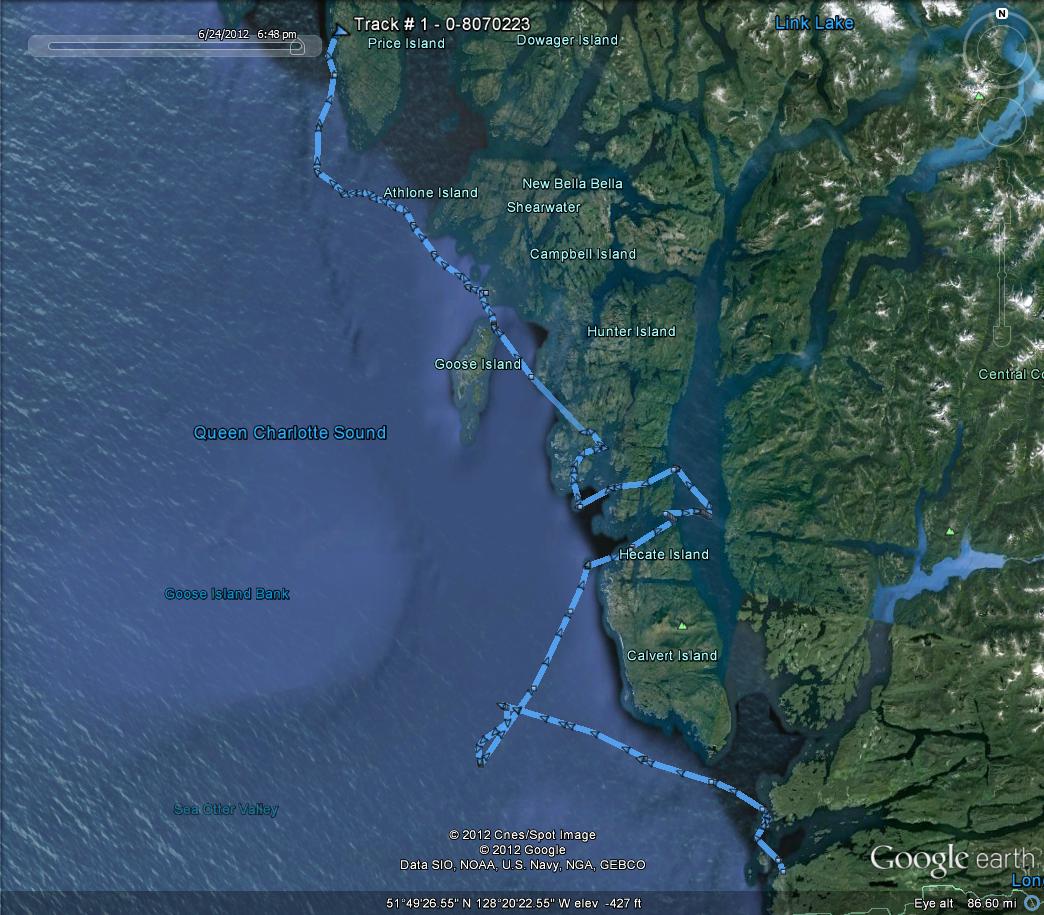 Sunday June 24 – We were up early this morning and left our anchorage to float in Queen Sound, have breakfast and listen for whales. We saw a humpback in the distance breach about six times in row! We continued to the north end of Goose Island, where we came across a buoy with Japanese characters written on the top – possible tsunami debris. We took pictures and collected some of the goose-neck barnacles that were attached to the rope on the buoy.
A little later, we came across a group of sea otters resting together in a so-called raft off Marshall Reef. We've noticed in the past that sea otters on the central coast are extremely wary of boats, and that rafts break up and individuals start to swim away when boats come within a few hundred metres – so we kept our distance.
We came across our first group of killer whales of the trip an hour or so later, in Milbanke Sound. They were transients: T69A and her two offspring T69A2 and T69A3; and T109A and her three offspring, T109A2, T109A3 and T109A4. The youngest calf, T109A4, was born this year and was still pinky-orange in colour. The transients appeared to upset a humpback that was in the vicinity and swam through a group of Pacific white-sided dolphins, sending them scattering. After taking identification photos and sound recordings we left them and anchored in secluded Rudolph Bay off the west side of Price Island.