Northern Residents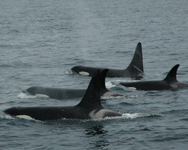 The residents are back in town!  Only a few matrilines have been seen regularly in the Queen Charlotte Sound and Johnstone Strait area but other matrilines have been seen along the remote BC Central coast.
In early July, the 8th and 9th, a mix of A clan whales were seen around Queen Charlotte Sound.  The group included whales from the A8, A34, A24, A35, A25 and C10 matrilines.  On July 18th Dr. Barrett-Lennard and Meghan McKillop researchers with the Vancouver Aquarium, encountered a super pod of residents about 15 miles offshore near the edge of a shallow bank known as Goose Bank along the Central coast.  Whales in this encounter included the A30s, B7s, I11s and R2s.  The A30s and B7s showed up again two days later in the Johnstone Strait area.  On July 23rd the R2s and R13s were also seen off the Central coast.
The A23 and A24 matrilines have been doing the north island shuffle – moving back and forth between Robson Bight Ecological Reserve and Telegraph Cove since around July 23rd.  Matriarch Scimitar (A12) and brothers Plumper (A37) and Kaikash (A46) joined them periodically and the rubbing beach appears to be getting a lot of use.
In late June researchers, Graeme Elis, John Ford and Jared Towers, with Fisheries and Oceans Canada also had a great encounter with northern residents near Prince Rupert.  During this short trip they encountered all the northern resident matrilines in the adoption program.
Southern Residents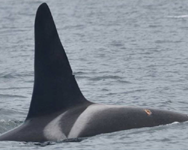 Southern residents are back too!  All three pods showed up in the inland waters of the Salish Sea on July 7th and have been around consistently ever since.  Prior to July 7th subgroups from all three pods ventured in and out of the Salish Sea, but the whales had not all shown up together yet.  L pod was seen on the west side of Vancouver Island off Tofino on July 3rd, and a few days later on July 6th showed up in the Salish Sea – just in time for the super pod.
There's a new calf in K pod!  A little boy, K44, is the first calf of the female K27.  Cappuccino (K21) also has a rather puzzling new nick on his left side, past his saddle patch and just down the ridge of his spine.
Transients
With the residents around regularly now, transient sightings have slowed down a bit.  On July 9th Nitinat (T12A) was seen in Johnstone Strait opposite the Robson Bight Ecological Reserve.   There were four other transients in the area, however, he appeared to be traveling by himself.  Nitinat doesn't venture into the inshore waters very often, so it was great to have a sighting of him.
The T123 group, Sidney (T123), Stanley (T123A) and Thrasher (T123B), was seen on July 13th near Sooke off the very southern end of Vancouver Island.  They were traveling with the T185s, T99s and T36As who took out a harbour porpoise.  The T2C group, Tasu (T2C), Rocky (T2C1) and Tumbo (T2C2), was around Johnstone Strait for four days at the end of July, 22nd – 25th.  The T21 group, Kwatsi (T21) and Pandora (T20), was seen around Desolation Sound on July 27th and 28th traveling with about six other transients as they headed north.  They were seen again in upper Johnstone Strait on August 2nd and out front of Telegraph Cove on August 8th.  The T19s were also seen a couple days earlier off Quadra Island.